First impulse for my body transformation
'Skinny'/ 'Sukda': The tease that I use to hear more often during my childhood days and it made me wonder if I could only get over it someday as it was quite irritating for me to concentrate on my daily activities. That was also the first and most powerful trigger when the thought of body transformation engrossed my mind. My body structure was so weak and under nourished due to lack of proper food and healthy environment that I used to fall sick every now and then. I hardly used to eat and used to skip my meals more often. Also, constant nagging from my family about my joblessness has reduced my appetite habitually. Looking at me that time, anybody would have considered me as one of those malnourished children. My appearance was far behind as compared to even a normal healthy person and the fact that my body can become aesthetic and muscular like body-builder was beyond anybody's imagination including my own. However, deep-down in my mind, subconsciously, I was very much determined to change my body somehow and prove my capability.
My inadequate family income and struggle for job didn't stop me to pursue my ambition of becoming an elite Body-builder and muscle trainer. There was such a burning desire in me to outperform in the field of body building that any news or articles or discussion which gave even slightest of the tips or guidance to shape my body structure instigated me to research more and more till I find the best possible answer and satisfied my thirst for knowledge in body-building. I was so determined to transform my body and excel in fitness that I used to work part time and used to study in the night college due to lack of financial support. By searching bit more, I got to know about affordable standard gym at 'R M Bhatt High School' where I paid Rs 50 and started developing good amount of muscles with improved diet plan and extensive guidance.
I approached professional body builders for guidance and realized that it was very important for me to eat healthy and have wholesome diet. As a learning from this, I started spending more on my daily nutritional requirements that a muscular body demands. For example, 12-14 eggs, 2-3 bananas per day. Sometimes, I even used to upset my family members by paying only 1/4th of my salary as most of it was spent on my fitness regimen and diet. I had to overcome this guilt feeling with a firm thought of taking care and giving the best to my family in future. I continued diligently and my body started showing drastic improvement and changed my appearance to large extent. I even started participating in Body- weight championship wherein I used to gain 30-45kgs excess body weight with high carb diet and high intensity workout which helped us to compete under high muscular category and used to reduce again 30kg fat and get a benefit of muscle gain before the competition compare to last year. This was also the time when I worked tirelessly from dawn to dusk and realized that God has put my perseverance to test to prove my mettle.
BATTLED WITH DISAPPOINTMENTS
Although there was improvement in my body structure and skills, I realized there was no change in my income or it was very fluctuating. Suppose for a month, I used to earn 20k to 50k and for other 2 months, I used to have empty pockets. I used to literally plead other trainers to buy in some clients for personal training. Sometimes, I was not able to afford my basic needs such as petrol, dietary requirements and personal gym-wears. When these miserable circumstances were unbearable, I used to sit at Siddhivinayak temple to bring peace to my mind and pray for good things. In the midst of these failings, I was having no answers when my parents and younger brother used to ask me to leave this field and go for a job where there is fixed income. With bitter disappointment and very thin ray of hope, I still stuck to my profession and decided to work more hard and make it big.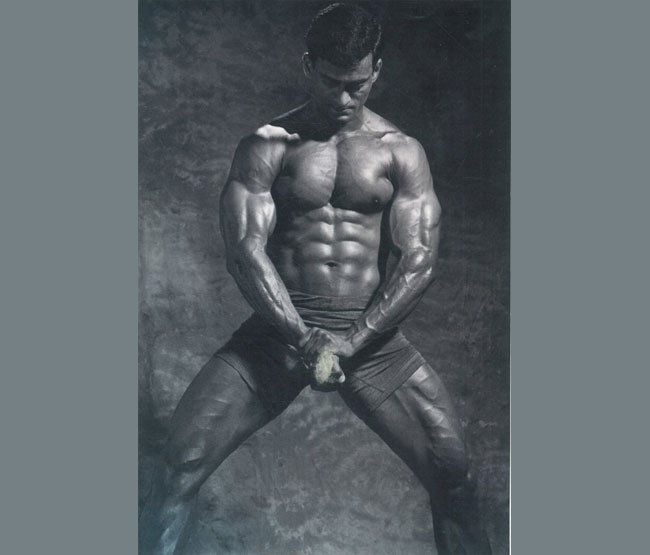 Officially in year 1994, I started my bodybuilding profession and won Novoice Mr. Mumbai Champion of champion and many other junior level local body building competition. Basis this and through my friends reference, I got my first job as a fitness trainer in Talwalkar with decent salary of 4000rupees per month which was also the highest as I never used to get more than 1500 at any job before. I was overwhelmed and excited. Initially, there were some hiccups I was not prepared to adapt to posh locality which used to get me bit scared of anyone speaking fluent english as I have always stayed in poverty and studied in vernacular medium. I used to sit with dictionary to be more prepared. Thereafter, I also won many titles such as Mr. Mumbai Gold Medal 2008, Mr. Mumbai Silver Medal – 2 times, Mr. Maharashtra Silver Medal – 2 times, Mr. Jogeshwari Champion of champion, Mr. Girgaon Champion of champion, Kamgar Shree Champion of champion, R. M. Bhat college Champion of champion.
In the quest to understand better and to further dig-down into the core of each exercise, I used to perform each exercise and implement each form on myself along with different types of diets and nutritional supplements only to experience and learn better as to how my body reacts to this change in the forms of exercise and diet. The fact that I was good in sports helped me to learn and adapt to any form of exercise quickly and perform it better every next time. I started developing coaching skills in this process naturally. I used to study each of my client's health profiles such as age, BMI, fat percentage and other functioning with minute details. Although most of the techniques and guidance were available in the books or videos, I was never too convinced to accept a particular exercise or diet to be perfect unless I used to try it myself. This has boosted my confidence level while imparting any exercise training or suggesting dietary supplements to anyone. For any new form of exercise, I was always restless to keep on doing it till I have good amount of control on it myself and completely at ease with it to instill confidence in my clients to achieve their goals. This was how I used to set level for myself to be recognized as the most looked-after personal trainer. It was not that easy as I left no stones unturned to miss any forms of exercises that would help me or my clients to achieve their fitness.To develop myself professionally I certified myself from k-11 academy.
I decided to shift to Bandra or Andheri as there was more scope of personal training due to the TV and film crowd residing there and their profession always demanded to look good. I inquired and got an opportunity to work as freelance Personal Trainer in Sykz gym at Bandra. While I was dedicating myself completely in improving on new and different workout techniques and dietary supplements for my clients, one of my client recommended my name to Ritesh Deshmukh who joined my personalized training program to get sculpted body for his upcoming movie House full 1. This was when I got my first break to train a celebrity and an opportunity to prove myself as an Effective trainer in the film industry. Ritesh was quite happy and satisfied with my training results and further suggested his House-Full 1 team crew to join my personal training. Ritesh even insisted me to assist him with his world tour plan for constant coaching and guidance. This was really surprise to me as I used to just wish if I can only go to any country for vacation one day and here I was going on world tour. Another pleasant surprise was when I met Amitabh Bachchan on this tour and he referred to me as 'Sir' when I was coaching for some exercise. This was the biggest moment of my life. After that, there was no looking back.
Every person has their own struggle or experiences in life which leads them to draw their own conclusion and belief systems. Based on my experience with negative and positive extremities in life, I have come to believe that the intense struggle makes you more responsible, constant hardships prepares you to deal with any situation and your unbroken spirit to prove yourself in life not only brings out the best but matures you enough to give it back to society.
"My goal is now to keep learning, discovering and sharing new and correct fitness techniques, methods and ideas to guide each of those enthusiastic individuals and contribute in the development of disease-free, fit and healthy society."